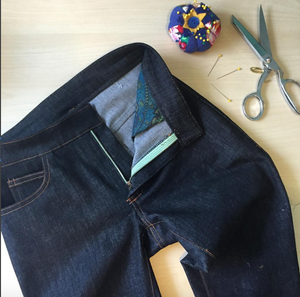 Ginger Jeans Workshop
                                        Information / Supply List / Payment
Let Lauren show you how fun and fulfilling it is to make your own jeans! In this 2 1/2 day weekend workshop, you will work our way through the Ginger Jeans pattern (her personal favourite!), learning the basics of fitting and construction for making your own jeans. We will also go over all the fun extras that separate jeans from mere pants – topstitching, fancy seam finishes, and installing hardware.  * Please Note: The Ginger jeans pattern is available in sizes 0-20. 

The weekend begins with a fun fitting and cutting party on Friday night.  While getting to know each other, Lauren will first help you determine your size, then we'll get to cutting and marking your denim. Construction will begin on Saturday and continue through the weekend.  You will leave with not only a new pair of jeans, but also the knowledge and empowerment to make more on your own.
The location of this workshop is also historic, we have rented the whole auditorium of the Almonte Town Hall, 14 Bridge St. Almonte.   This building was built in 1885. The auditorium's soaring ceiling of hand-hewn Douglas Fir beams offers an acoustic setting unparalleled in the area.  We also have an immense space to grant each student space to be socially distanced and safe.  Parking on site provided.

                                           COVID-19 Awareness
We ask that all attendees be fully vaccinated against COVID-19   Note that social distancing will not be possible at all times. Attendees will be working and eating as a group.  Requirements subject to change depending on current virus situation
PREREQUISITE: Comprehensive Knowledge of Sewing
DATE:  July 15th - July 17th 2022

Time: July 15th  2- 6 pm  July 16th  10 - 6pm  July 17th  10 - 6pm

12 seats available.        

Instructor: Lauren Taylor (teacher's aid also)

FEE:  $795.00 . (Final sale as no refunds will be offered on this class due to Lauren flying into Canada to teach this class. If you need to cancel, we will do our best to resell your seat and refund you 100% class fees)

NOTE:  Please include your Waist & Hip measurement in the comment box.  Lauren needs to ensure that she has the right jeans for you to try on.
SUPPLY LIST
DENIM:

 

Stretch Denim.

 

Each student will need 2.50 - 3 meters, depending on size. They will need to pre-wash their denim before class. Preferably 2-3 times (wash and dry), with the first wash on hot and any additional washes however they plan to launder their finished jeans. This fabric bleeds quite a bit so it should not be washed with anything that is not the same colour.

POCKET FABRIC: Anything reasonably strong and sturdy will work. 

FUSIBLE INTERFACING: We only need a little bit for each student (enough to interface the tops of the pockets and about a 4" x 3" square for each waistband piece). 1/4 meter is plenty.

TOPSTITCHING THREAD: Mara 70, colour 448 (copper) -

 

Each student will need 1 spool. (in store)
RIVETS: .

 

Each student will need 6-7 rivets (5 for the jeans, and a couple to practice with).(in store)

JEAN BUTTONS: Each student will need 2 (1 for the jeans, 1 to practice with).(In store)

ZIPPERS:

 

At least 9", although longer is OK too. Each student will need 1.(In store)

PATTERNS: We'll be making the Closet Case Patterns Ginger Jeans (in store)

NEEDLES: We need denim needles for all the machines, preferably a size 90/14. Make sure we have plenty because we will probably break a lot of them! :) (in store)

10.

THREAD: Each student will also need regular polyester Gutermann thread. Black or navy is fine, 1 spool per student.

11.AWL: For installing the button and rivets.

 

They will be in classroom but you may bring your own.

12.

PINS: Nice strong Yellow tipped quilting pins.

13.

BASIC DRAFTING SUPPLIES: Tape, pencils, paper, rulers. In case you need to make pattern adjustments.

14.

BASIC CUTTING SUPPLIES: Fabric scissors and paper scissors.

15.

BASIC SEWING SUPPLIES: Seam rippers, seam gauges, pincushions

16.

MARKING TOOLS: Something to mark pocket placement and top stitching guidelines.

17.POINT TURNER:

 

Hand held

 

Plastic or Bamboo

18.

BUTTONHOLE CUTTER: Optional, but fun to have.

19. SEWING MACHINE:

 

Bring your own sewing machine.

 

Each student will have their own working station Table.
Get ready to sew!

Darrell